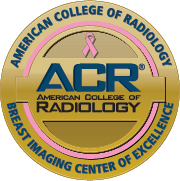 Santa Barbara Women's Imaging Center is now a Breast Imaging Center of Excellence as designated by the American College of Radiology (ACR).
This designation means Santa Barbara Women's Imaging Center has achieved accreditation by the ACR in stereotactic breast biopsy, breast ultrasound, and ultrasound-guided breast biopsy, breast MRI and in mammography, and signifies that we provide these essential services to our community at the highest standards of the radiology profession.
Using a strong magnetic field and radiowaves, MRI produces detailed 3 dimensional images of the breast that are very sensitive in detecting breast abnormalities. A woman lies face down with her breasts positioned through an opening on a table that moves into the scanner. Contrast dye (gadolinium) contrast is injected through an IV (intravenous catheter) and the whole procedure takes about 40 minutes. Please let us know at the time of scheduling your appointment if you are claustrophobic or have ferromagnetic metal implants in your body. Just as automated whole breast ultrasound (ABUS) is used as a supplement to mammography in screening women with dense breast tissue, MRI is used as a supplement to mammography in screening women with high risk of breast cancer
Breast Implant Surveillance MRI
Breast MRI is the most sensitive and specific way to detect a silent rupture. The Food and Drug Administration (FDA) recommends that women with silicone implants check their implants with non-contrast MRI starting 3 years after initial implant surgery and every 2 years thereafter. If your implant has failed, your plastic surgeon can provide you with options and assist you in making a claim on the warranty. The major FDA-approved breast implant manufacturers (Mentor, Allergan) offer a 10-year warranty on their implants. Learn More>>
Is there any prep necessary?
No. You may eat and drink as normal prior to your test. We will provide you with scrub pants and a gown to wear during your MRI. A locker will be provided for your valuables.
How long does a breast MRI take?
A typical breast MRI takes about 30 minutes.
Will the breast MRI hurt?
We make every effort to make you comfortable for your breast MRI. The test itself should not cause any pain, although some people do find it uncomfortable to lie on their stomachs.
Other uses of MRI include: