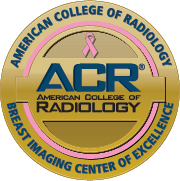 Santa Barbara Women's Imaging Center is now a Breast Imaging Center of Excellence as designated by the American College of Radiology (ACR).
This designation means Santa Barbara Women's Imaging Center has achieved accreditation by the ACR in stereotactic breast biopsy, breast ultrasound, and ultrasound-guided breast biopsy, breast MRI and in mammography, and signifies that we provide these essential services to our community at the highest standards of the radiology profession.
Screening whole breast ultrasound
Similar to Screening Mammography and Diagnostic Mammography, screening whole breast ultrasound is performed in healthy women who have dense breast tissue and diagnostic focused/limited ultrasound is performed in women who have a symptom detected by herself or her doctor or if there is something unclear on screening mammography and the radiologist needs to take a closer look.
Screening whole breast ultrasound
Diagnostic ultrasound is performed when a woman has a problem such as a palpable lump, nipple discharge or change in appearance of the breast or skin overlying the breast. These issues may be self-detected by a woman or by her physician or routine clinical breast exam. Diagnostic ultrasound may also be performed when there is something unclear on screening mammography and the radiologist needs to take a closer look. Often, diagnostic ultrasound is performed in conjunction with a diagnostic mammography. The exam is performed with a small hand-held transducer and is painless without ionizing radiation. Unlike Screening Whole Breast Ultrasound (ABUS), the exam is limited to focus on the portion of the breast that is symptomatic.
What should you not do before a breast ultrasound?
You do not need to stop eating or drinking before the test. You also will not need medicine to help you relax. You should not put any lotion, powder, or other substances on your breasts on the day of the test. Wear clothing that you can easily take off.
Can a radiologist detect tumors with ultrasound?
An ultrasound uses focused sound waves to create images of the inside of the body. Radiologists use ultrasound as a radiation-free way to determine the nature of a lump in the body–whether it is a tumor, a cyst, or something else entirely.
Can you wear deodorant for breast ultrasound? safe for breast implants?
On the day of your ultrasound, you should not apply any lotion or powder to the skin on or around your breasts or wear deodorant. These substances can interfere with getting clear images from the test. You may be relieved to know that any existing hair does not interfere with the images.
Ultrasound may be used if you: