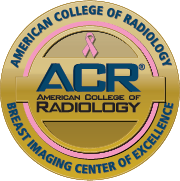 Santa Barbara Women's Imaging Center is now a Breast Imaging Center of Excellence as designated by the American College of Radiology (ACR).
This designation means Santa Barbara Women's Imaging Center has achieved accreditation by the ACR in stereotactic breast biopsy, breast ultrasound, and ultrasound-guided breast biopsy, breast MRI and in mammography, and signifies that we provide these essential services to our community at the highest standards of the radiology profession.
Radiologists interpret screening and diagnostic mammograms, tomosynthesis, ultrasound and MRI examinations. In a small percentage of cases, imaging is not enough to determine whether something can be safely watched and a biopsy is recommended. Breast needle biopsies are performed by extracting a small amount of tissue using imaging as guidance. All biopsies are performed in the same manner: the skin is cleaned and numbed with a local anesthetic, the target is found by imaging, a needle extracts the tissue and a small titanium clip is placed to mark the site of biopsy. Biopsies are safe and relatively non-invasive compared to surgeries that used to be performed to make a diagnosis.
Our Breast Biopsy Services: